When my daughter was born, I was living in New Zealand and under the care of a midwife. Midwives visit you in your home for six weeks postpartum, starting out daily and gradually decreasing their visits until you're comfortable being alone with your new baby. It's a pretty awesome system, and the number one thing I remember asking my midwife was when I was going to have my life back again. (I now know the answer: NEVER.)
"All I do is sit on the couch," I complained. "I don't go anywhere or do anything but nurse and pump, nurse and pump."
"That's all you're supposed to be doing," my midwife answered. "That's just part of being a new mother."
Living in rural New Zealand, we only got three television channels and used a VCR to watch movies. (And this was 2010, not 1990.) Things were different with my second baby, who was born in my American homeland. Here, there is a world of television streaming possibilities. I quickly learned that nursing, pumping, and the general malaise of being a new mom is a little easier when you can just click "next episode" (and Netflix doesn't even make you do that!). The fact that you have fused with your milk-stained easy chair isn't as disheartening when you can secretly judge the couples on House Hunters for turning down a home because they don't like the paint color.
When it comes to streaming shows, here are my qualifiers:
No excessive violence or profanity: I know my baby can't understand English yet, but watching characters use the F bomb and engage in physical violence doesn't exactly bring my milk down, you know?
No loud explosions: Because if you wake up my baby, I will melt your face.
No deeply disturbing themes: I'm trying to relax here. I have enough stress in my life right now.
Nothing pervasively vapid: Please let me use my brain just a tiny bit. It's been so long.
No cable necessary: With me not working, cable is too expensive for our family. I chose shows that are available through Netflix ($8.99/mo) or Hulu Plus (7.99/mo). I did choose one show that is only available on Amazon Prime ($99/yr), but you'll thank me later when all your baby needs are delivered to your door within two days.
Here are my favorite shows for streaming when you're a permanent fixture on the sofa.
1. HOUSE OF CARDS
Ladies of Columbia, get on this immediately. Not only is Frank Underwood from Gaffney, he's also wickedly ruthless and smart. I cannot tell you how much I love seeing a South Carolina politician represented as shrewd and calculating instead of backwards and backwoods. I love the subtle shout-outs to the Citadel (aka the Sentinel in HOC), Spartanburg, the Peachoid, and other South Carolina locales. Even my alma mater, Clemson, gets a mention. Kevin Spacey is immaculate in the lead role, and Robin Wright, who plays his wife, has a wardrobe that is total eye candy. I like to imagine that when I'm in my forties, I will also be as glamorous as Claire Underwood. Also, it's a damn good story. All three seasons are available for streaming on Netflix.
2. DOWNTON ABBEY
I resisted watching this show for years because it looked so boring. A bunch of English people faffing about in a manor house? No, thank you. But while I was laid up in bed during a difficult pregnancy, I decided to give it a shot. OH, THE DRAMA!!! I now want to live with the Crawleys and have Carson the butler take care of my every need. It's a soothing, opulent Masterpiece Theatre production that is as visually captivating as it is entertaining. Plus, you get a refresher in early 20th century British history, so you can finish an episode feeling like you've accomplished something intellectual. The first four seasons are free with Amazon Prime.
3. FRIENDS
You may find yourself teary with the baby blues as you hoarsely sing "so no one told you life was gonna be this way" to the opening credits. (And your love life post-baby is probably pretty DOA as well.) Netflix recently paid $500,000 per episode for the entire ten seasons of what amounts to the best comfort television around. You already know how every episode is going to end, so it doesn't matter if you miss a scene or two dealing with spit up or a poop explosion. Could you BE any more excited? All ten seasons are available for streaming on Netflix.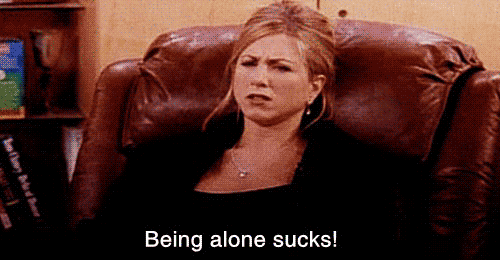 4. SHARK TANK
On Shark Tank, hardworking Americans get the chance to go in front of a panel of investors for the chance to have their inventions backed. I enjoy seeing what kinds of ideas people come up with and predicting whether or not they'll get a deal. I know there's a lot of logistics behind the show and that the deals don't always pan out, but I don't care about any of the technicalities. I just like watching people use their brains to solve problems. Also, now I know all about "too-high valuations" and "needing more skin in the game." I'm basically an MBA. The show also features a lot of stay-at-home mompreneurs who work out of their kitchens / garages / basements, which is heartening when you are starting to feel like you'll never be productive again. My favorite invention so far is BevBoy, a floatable coozie that Daymond John ended up backing. I'm going to need one of those the next time I go to the coast. Bonus: Dads seem to enjoy the show as well. Recent episodes are available for streaming on Hulu Plus.
5. THE MINDY PROJECT
I started watching this program when it first aired, mostly because The Office is one of my favorite shows ever (you can stream it in its entirety on Netflix), and Mindy Kaling was both an actress and writer on that series. However, I soon became too lazy to wait a whole week for another episode. At the time, I had a full time job and a small child, and I couldn't stop everything once a week to watch a TV show. Once I was home nursing baby #2, I had time to catch up on the past three seasons. There are a few reasons I prefer this sitcom above the myriad of other half hour comedies out there. First of all, Mindy Kaling is a curvy lady, and she makes no apologies for it (as she shouldn't). Her character, the OBGYN Mindy Lahiri, loves to eat, and almost no story lines revolve around her trying to lose weight. I found her acceptance of her awesomeness pretty helpful every time I had to tuck my C-section flab into my yoga pants in preparation for another day of zero physical activity. I love seeing how she dresses, and it's given me some good ideas for how to flatter my post-baby figure. Maybe it's the elementary schoolteacher in me, but I also dig that she chooses bright, happy colors. Sometimes when you're a mom, you feel like you're always in the background. I recently bought Mindy-inspired bright red skinny pants, and it made me feel a little more like myself and a little less like a dairy farm. All three seasons are available for streaming on Hulu Plus.
6. HOUSE HUNTERS
House Hunters is basically the middle-aged version of A Wedding Story, which you totally know you obsessively watched in your college dorm room. And just like your 18-year-old self judged the Wedding Story brides for their terrible taste in flowers and reception halls, your 30-something self can now judge long-married couples who love crown molding and hate street noise. (Spoiler alert: The wife usually gets her way. AS SHE SHOULD.) I'm super sad that only "selected episodes" are available, because 25 House Hunters episodes are not enough. When you get through those, you can move on to House Hunters International (another 25 episodes). I am on House Hunters International restriction because I usually end up whining to my husband about how we don't live in a pied–à–terre in Paris or Vienna. A piddly 50 episodes are available for streaming on Netflix, but it's better than nothing.
My baby is eight months old now, so a nursing session usually only takes ten or fifteen minutes these days. So take heart, mama. You won't be stuck on that couch forever. Might as well pull out a breast, kick back, and relax with some good TV.
What are your favorite shows to stream?